All of the artifacts on this page are directly related to the American Revolutionary War effort, as they were all either recovered from documented engagement and skirmish sites or encampments used from 1775 to 1782. The relics that I display throughout this entire website were recovered on private lands with the owners consent. You will never see a relic displayed on this site that was recovered on State, Federal or any other prohibited lands, specifically if the relic was recovered by me. Simply having a metal detector in the trunk of your car if you were visiting State or Federal Park Lands could make you culpable for up to 5 Years imprisonment and/or up to $25,000 in fines.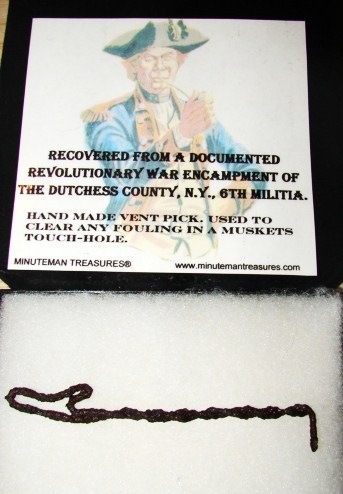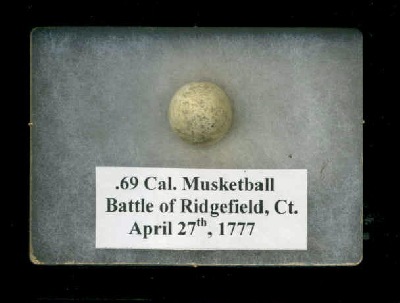 A true piece of history. Not only present and accountable at this battle, he was leading the charge for the American cause until his horse was shot out from under him. Who was 'he'? It was none other then Benedict Arnold.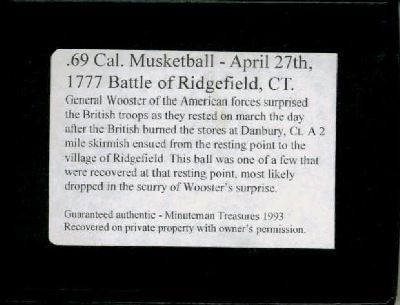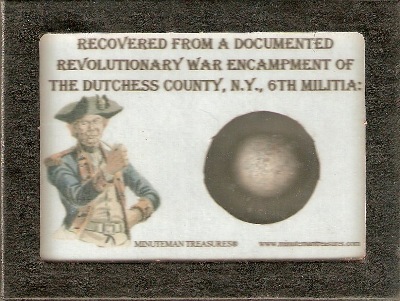 Dutchess County, N.Y. Militia Camp recovery.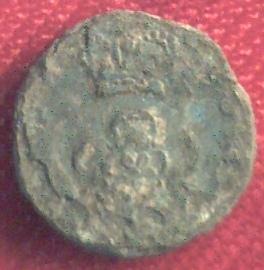 Made of pewter, this cuff size button is a British Crown over Tudor Rose. Although they're faint, they're noticeable.


A sizeable amount of the artifacts below were recovered around the Fishkill Barracks Site, Fishkill, New York...

FISHKILL BARRACKS/SUPPLY DEPOT: 1776, Dutchess County, Fishkill, New York. Operated from 1776 to 1782. Barracks for 3,000-6000 troops (Depending on the Northern Campaign activity)were located one mile below the village of Fishkill on each side of today's Route 9. The river port to the east, Fishkill Landing, is now the Town of Beacon. The depot was on the East bank of the Hudson above Fish Kill. When the depot was started Fishkill Cove or Wiccopee Pass to the South was fortified with 3 batteries (cannon sites). This also was the East end of the 1777chevaux-de-frise line from Pollopel's (Bannerman's) Island to Fort Plumb Point near New Windsor on the West bank north of the Murder's Kill.

UPDATE: May 12, 2009. It has been reported that archaeologists believe they have identified the "Camp Burial Site", currently being called the "Continental Burial Ground",across Route 9 from the May's Mall. The flatlands that the May's Mall is currently built on was once the primary encampment grounds of the Fishkill Depot during the Revolutionary War. It was well known that many a body was buried near the encampment, however the location of where was lost with history. Countless British were buried here as well. It was reported in one soldiers diary that in the Dutch Church in the Village of Fishkill, there were "Redcoats stacked like cordwood". For years I heard rumors that the bodies were most likely buried forever lost beneath Interstate 84, which passes directly through the encampment site. Now that the specific burial site may have been located, if it is indeed confirmed to be the true camp burial site, please support every effort to support this site as a State and/or Federal Protected Revolutionary War burial site.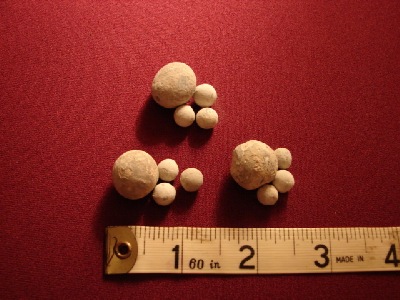 To the left is a grouping of what was called "Buck-N-Ball". Because the single musket ball was so notoriously inaccurate, a ball and a few rounds of buck shot were fired to enhance the shooters capability of hitting his target.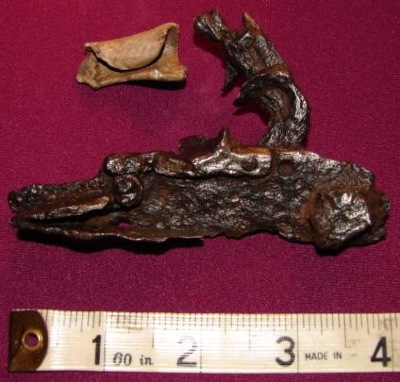 Flintlock and lead wrap. The flint would be wrapped in this lead, then tightened on the frizzen (the arm just to the right of the lead wrap in the photo).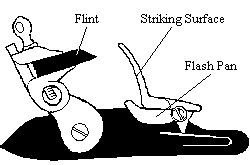 A diagram of the working parts of a musket flintlock.



A very rare and unusual recovery. This is a miniature cannon known as a 'Salute Cannon', measuring approximately 11" in length. Strangely, it is missing the swivel arm on its right side, and it appears to have been intentionally removed for some unknown reason. Recovered in Northern Dutchess County, New York, interestingly enough within Twenty Miles of a Cannon Forge that maunfactured cannon for the Continental Troops in the Revolutionary War.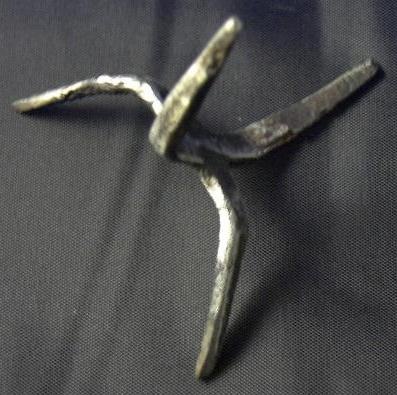 This artifact is one nasty relic used in the Revolutionary War. Its called a caltrop and it was used by fleeing troops who would toss handfuls of these for their pursuers (horses and troops) to land (hoof or foot) full stride on. Caltrops were specifically designed to land with a spike up every time it was tossed.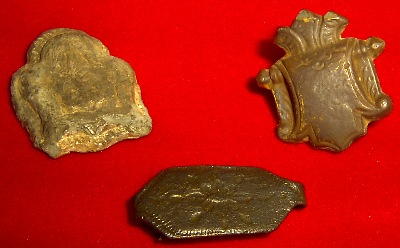 Recovered from a Revolutionary War campsite were these two decorative pins and a hand etched cloak clasp. The pin in the upper left of the photo has a barely discernable inscription of a Tudor Rose. A Tudor Rose was a popular flower pattern put on many types of 18th Century buttons. Northern Dutchess County, NY.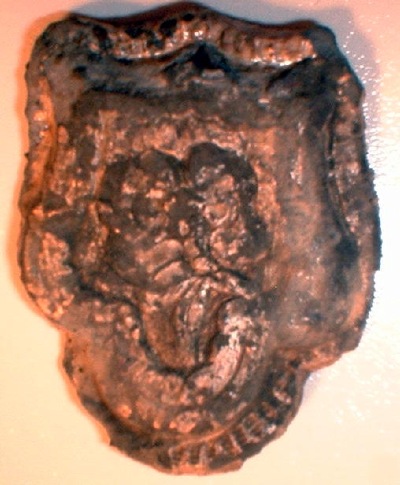 The pin in the above photo to the left is enlarged to discern the detail. This Tudor Rose pin only measures 2cm high.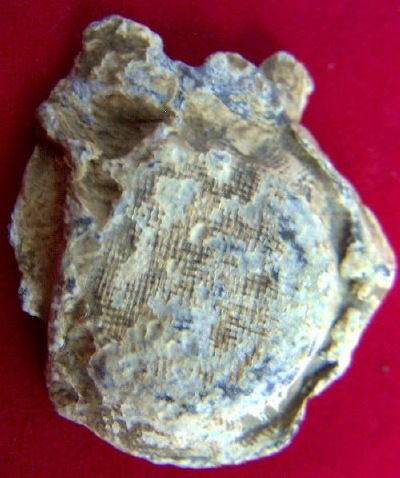 This 'clump of lead' actually only measures about 1" high. This is the kind of item that would most likely make its way to the "junk box" if an average metal detectorist found it. A closer look, and you don't have to look too hard, you can see the 230+ year old fabric imprint from when this was used as a coat weight. Small lead weights were commonly used in the 18th Century to weigh down the tails of men's coats. Northern Dutchess County, NY.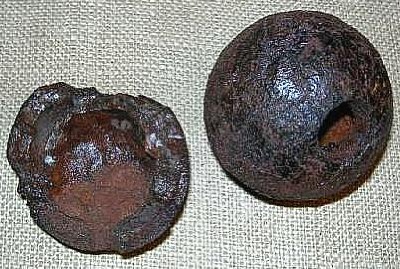 An extremely rare fragment and an incredibly rare, almost complete, Revolutionary War grenade. They measure 4" in diameter and the only thing missing from the intact grenade is the wooden time fuse where there is now a hole.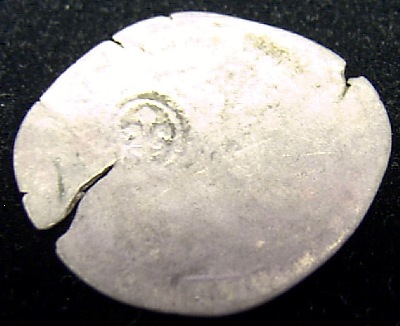 A 'striking' example of how a government marked their property in the 18th Century. This is a silver piece, at one time a discernable coin, stamped with the French fleur-de-lis. This was recovered in the vicinity of a French & Indian War encampment. England did the same with their government property but they marked their military items with an arrow, known as the British Broad Arrow.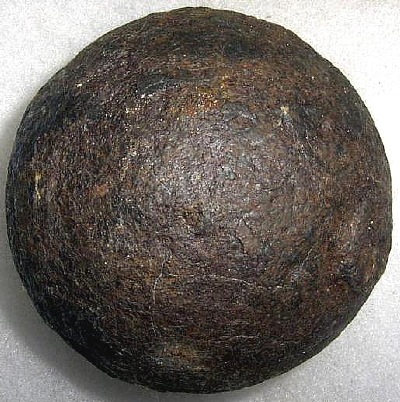 Yet another keeper. Look closely at this cannonball and you may notice a raised round fragment at the 3 O'Clock position. That is actually where the British cut off a round bar that was not only attached to this ball, but to another as well (looking something like an old style iron dumb bell). They were known as bar shot. Bar shot was primarily used shipboard, as when they were fired from cannon they would tumble through the air and they were capable of doing great damage to another ships rigging. This was recovered on private property with permission from the owner in the Ridgefield, Connecticut vicinity. Presumably used in the British March on Danbury, then on through Ridgefield, on April 27th, 1777. An identical ball to this one can be viewed embedded in a wood beam at the Keeler Tavern Museum in Ridgefield, Connecticut.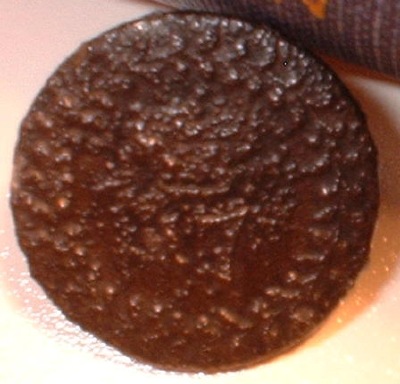 Though barely discernable, the 17 under the British Crown can still be seen. This vest button belonged to a soldier serving in the British 17th Regiment of Foot.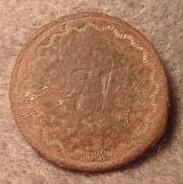 71st Regiment of Foot Coat Button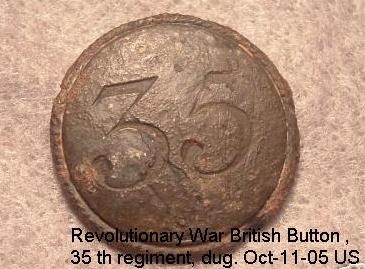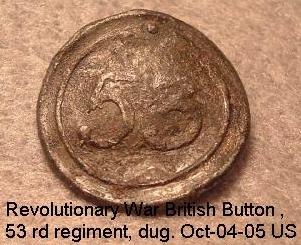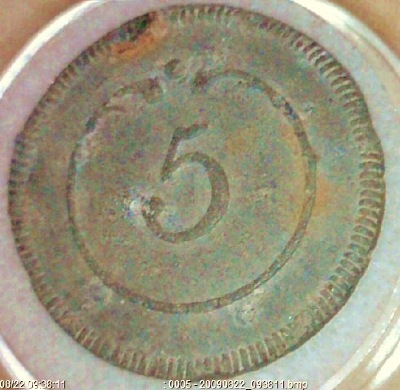 One of my most favorite recoveries relates to Battle Road, between Concord and Boston, Mass. This was recovered on property that was privately owned with the owners consent, in the vicinity of Arlington, Mass. It's a British 5th Regiment of Foot Coat Button in exceptional shape.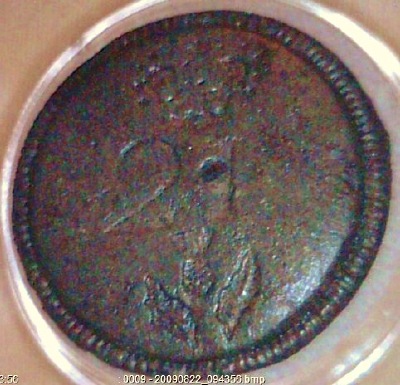 This British 21st Regiment of Foot Coat Button was recovered in what was in 1777 the town of Nobletown, present day Hillsdale, NY. The British, as prisoners from the battle of Saratoga, camped here on march to their holding and exchange areas.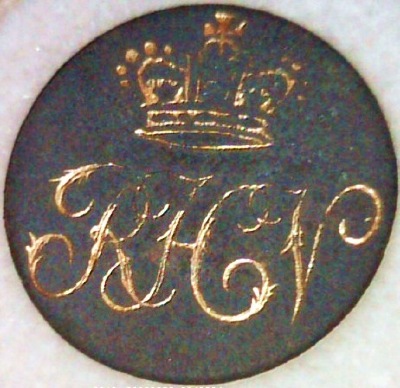 This Button was found in the vicinity of Greenwich, NY on my brothers property. This location was traveled by troops from both the Seven Year's War and the American Revolutionary War. A wonderful gold guilt remains within the engraving of this coat size button.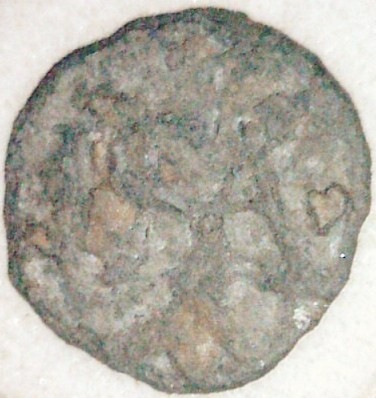 Intertwined USA Button. This was recovered in Fishkill, NY and is properly classified as 'environmentally damaged'. Thankfully, the USA is just discernable, and interestingly, it appears to have a heart on it.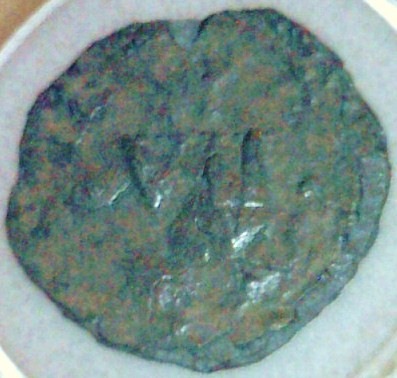 Another favorate find is this beauty, a Mass 7th Regiment Vest Button.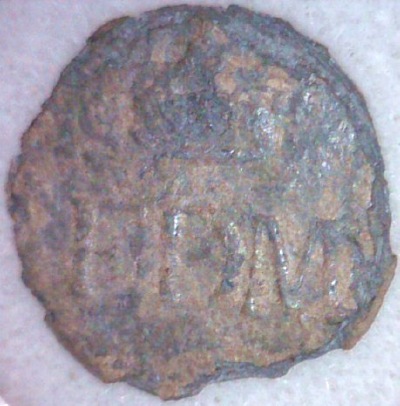 An interesting button marked FDM recovered in a Rev War camp in Dutchess County, NY.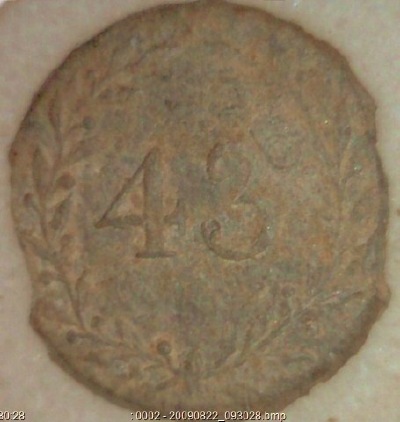 British 43rd Regiment of Foot. Recovered on private land near Arlington, MA.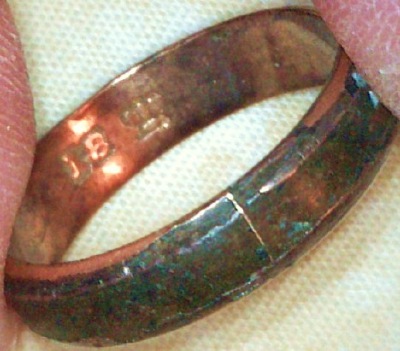 This wedding ring was recovered at the residence of a Revolutionary War Officer. The ring is stamped 18 with a crown. A nice example of a Two Century old wedding band.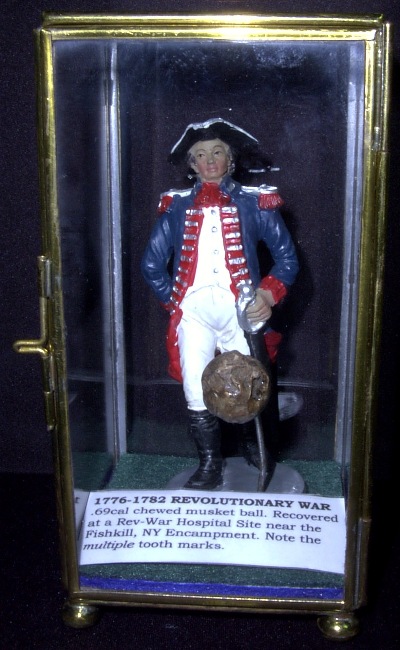 A recovered historical relic in its finalized display.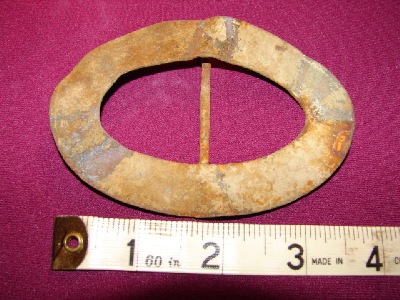 4" in width, this cross belt buckle could possibly date as far back as the 17th Century.


This is a find of a personal nature. It's believed to be a wedding ring and it is in recovered, pre-conditioned for display, condition. It is made of twisted brass wire and was recovered in a documented Revolutionary War Camp.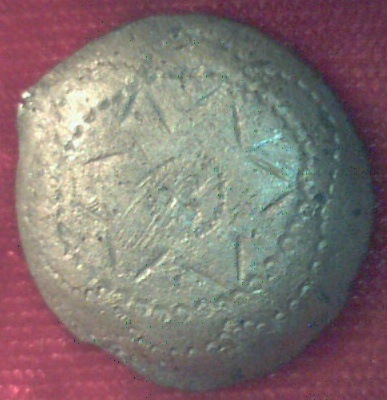 A hand designed brass button recovered in a upstate New York encampment.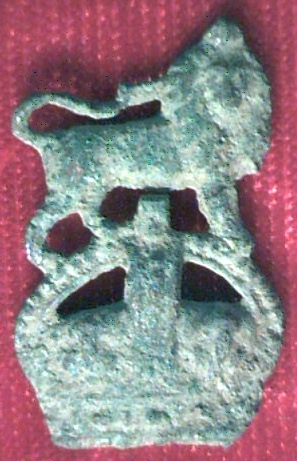 Made of brass, this is a small 'plate' of a lion on the King's Crown. It measures about an inch and a half high and was recovered on private lands with owner's permission along the Hudson River just outside Schylerville, New York. Present day Schylerville was actually the town of Saratoga where the American Forces conquered the British in the Fall of 1777.



Ever since I was a child, we would drive by this one spot outside of town, and the comment was frequently made that "The troops drilled here during the Revolution, you know". Well sure enough, they did! This find solidified that fact. It is a Pike Head, which was mounted at the end of a staff. A vast amount of artifacts were removed from this site, but nothing that really verified this site as a military site, until now.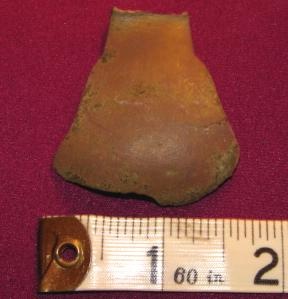 This brass fragment is from the butt end of a musket, also known as a butt-plate. It was recovered from a documented militia encampment, present day private property, from the American Revolution.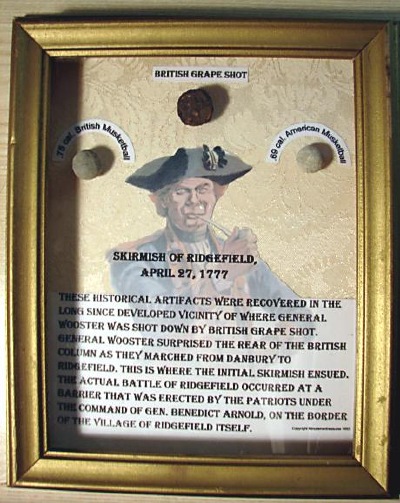 Another Minuteman Treasures Certified Display. This features a fully protected shadow case with a British .75 Cal musket ball, a 1" British Iron grape shot and an American .69 Cal. musket ball with descriptive. All three relics were recovered in a 1950's development which were once the grounds of a rather intense skirmish.

Certified Displays are guaranteed genuine artifacts identified with the recovery area & significance. Certified Displays are accompanied with a Certificate of Authenticity.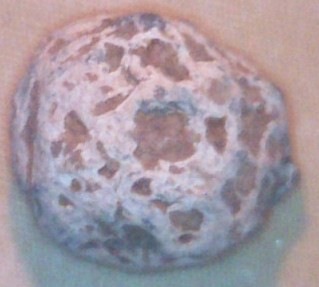 Frequently in the Summer heat, a soldier would pull a cool lead musketbakk from his pocket, place it in his mouth, and keeping it there, would roll it around on occasion in his mouth to draw saliva. The end result would be precisely what is pictured to the right.