Home
My name is J. Peter Simmons and I have been recovering artifacts spanning close to Three Decades. With the use of a professional grade metal detector, I scan for relics that were lost throughout history. The variety of items that are recovered are almost infinite. I am not like the 'guys' that you may have seen on television, I am a discreet professional. First and foremost is the confidentiality of the property owner. Examples would be when an owner has granted me permission to author an article about their site and the recoveries, again descreetly. I also provide proof of medical coverage and a waiver of liability to all property owners. When I recover an artifact, it is recovered using a technique that once the recovery is completed, you would never know the ground was ever disturbed. Recovered artifacts are then split with the property owner by share, then preserved for permanent display. At some owners requests, I make display cases for the owners artifacts to present in their home as "Their property's own historical conversation piece".
Display cases are the best way to get one's attention when viewed, especially if a multitude of recoveries were made on the property. Simply put, my displays make excellent conversation pieces, bringing people together generating stories from the past. Who wore it? How was it lost? The more items recovered, the more stories and scenarios. Below are a number of displays, individually made.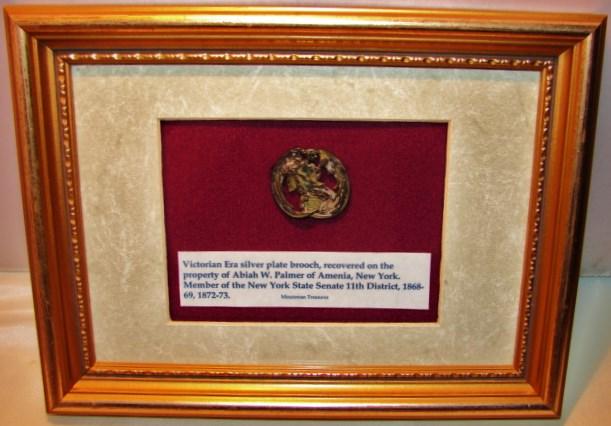 Above is a Victorian Era silver-washed angel pin.